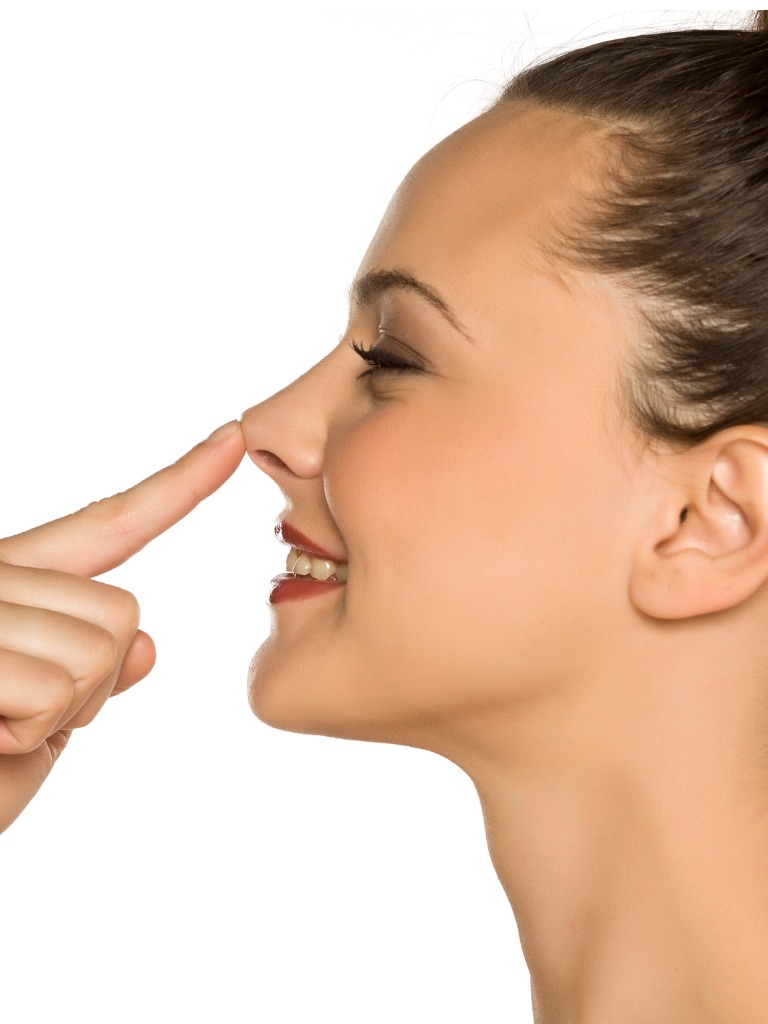 Non Surgical Rhinoplasty
Your nose is the centre of your face, which means all the attention lands on it ! Little bumps, dips and dropping tips can be fixed with treatments where filler is injected into your nose dips to smooth out the bridge of the nose! Treatments like Long PDO threads which is a popular safe non-surgical way of enhancing the shape of the nose and improving its contours, without any surgery.
Make an appointment
About the Treatment
A Non Surgical Dermal Filler Rhinoplasty is able to hide humps and dips in your nose bridge and fix asymmetries where they may occur, this treatment takes up to 20 minutes and can drastically improve the appearance on your nose.
Not sure what treatment is right for you? Book in a consultation and have our experienced registered nurses, give there advise and explantations of treatments and solutions to your concerns.
Whether you're hoping to smooth small dips and bumps on the bridge of your nose, correct asymmetries, or make the tip more prominent, non-surgical rhinoplasty can drastically change the appearance of your nose — giving you a major confidence boost in the process. A great alternative to going under the knife, this quick and non-invasive treatment takes just 30 minutes to complete and will transform the structure and shape of your nose to complement your natural facial features. With minimal downtime and long-lasting results, The Cosmetic Lounge will work with you, listen to your aesthetic concerns and create a tailored plan to correct your problem areas. We will also assess your facial characteristics before recommending the best course of action to ensure the new shape will balance your overall appearance.
If you're unsure whether this cosmetic treatment is right for you, don't forget to view our non-surgical rhinoplasty before and after images so you can see the dramatic difference we can make to your overall appearance.
Reasons why you should choose a permanent non-surgical rhinoplasty
While we understand every patient has a different set of cosmetic concerns depending on their facial structure and the shape of their natural nose, this treatment is ideal for correcting:
Nose symmetry
Nose height, projection and width
Bumps or humps on the bridge
Raising a flattened nasal bridge
Dorsal humps
Ski slope nose
Button nose
A droopy nasal tip
A saddle nose that needs straightening
What to expect from a non-surgical rhinoplasty in Sydney
When you visit our clinic, our team of registered nurses and cosmetic injectors will assess the shape of your nose before recommending the quantity of filler you'll need to achieve your desired non-surgical rhinoplasty results. After a local anaesthetic and numbing cream is applied, we will inject dermal filler into the nose to correct your areas of concern. This can help give you symmetry, disguise nasal hooks, bridges and bumps or redefine your natural nasal shape. Injection sites and the amount of filler used will depend on the type and extent of correction needed. Bruising after a non-surgical rhinoplasty is common.
Recovery and aftercare for flawless, long-lasting cosmetic results
Given that this treatment is non-invasive, recovery is much easier than undergoing a surgical rhinoplasty. To ensure adequate healing and optimal non-surgical rhinoplasty results, we will provide you with a list of aftercare instructions to minimise the risk of side effects. However, you will experience some swelling, tenderness and minor bruising after the filler is injected. While you can return to your normal daily activities immediately afterwards, there are preventive measures you can take to aid the healing process. These include:
Sleeping on your back with your head slightly elevated.
Avoid wearing makeup and applying harsh skincare for one day following treatment.
Avoid high-intensity exercise for at least two days.
Avoid applying pressure to the affected area for at least five days.
Avoid excessive exposure to heat and sunlight for at least one week.
Book your non-surgical rhinoplasty treatment today at The Cosmetic Lounge
With a highly-skilled team of registered nurses and experienced cosmetic injectors, you can trust that you're investing in a safe treatment that will correct the shape and size of your nose. To ensure you're comfortable throughout the entire procedure, we take our time with appointments, so we can create a personalised treatment plan that will address your unique cosmetic concerns. While the non-surgical rhinoplasty cost will differ depending on how much filler we inject, the starting price is $850.
You can book a consultation for your non-surgical rhinoplasty in Sydney with The Cosmetic Lounge today or head into one of our clinics in Wolli Creek, Penrith or Wollongong. If you have any questions about this non-invasive treatment, check out our FAQs or get in contact with our knowledgeable team today. We look forward to working with you to enhance your confidence so you can become the best version of yourself.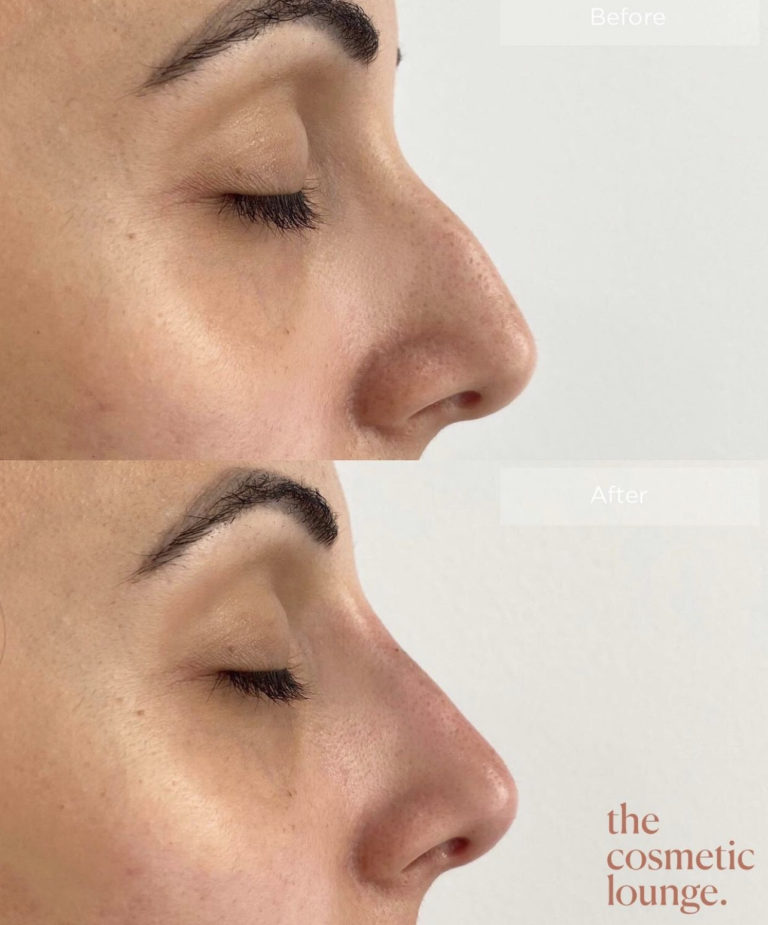 Gallery
Before and Afters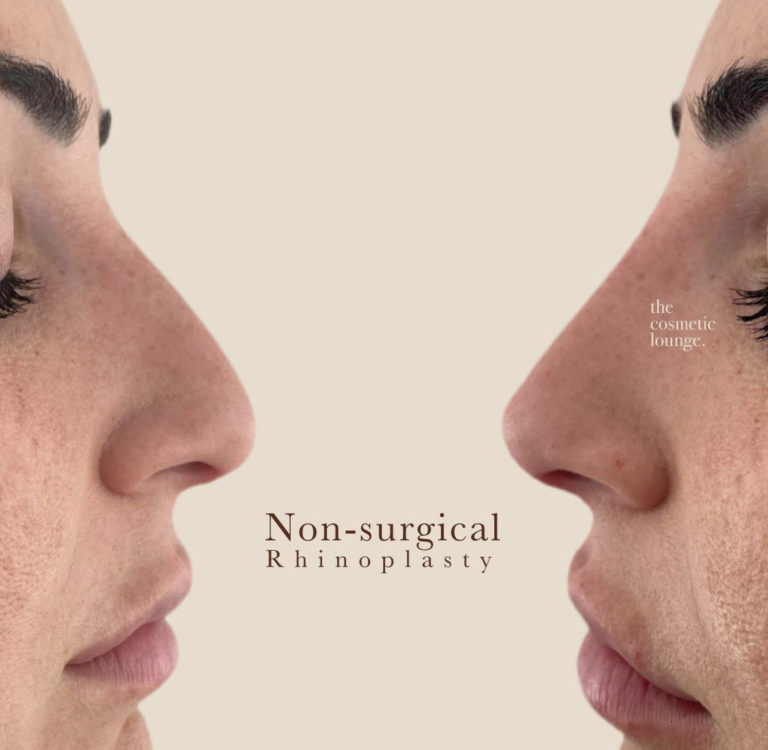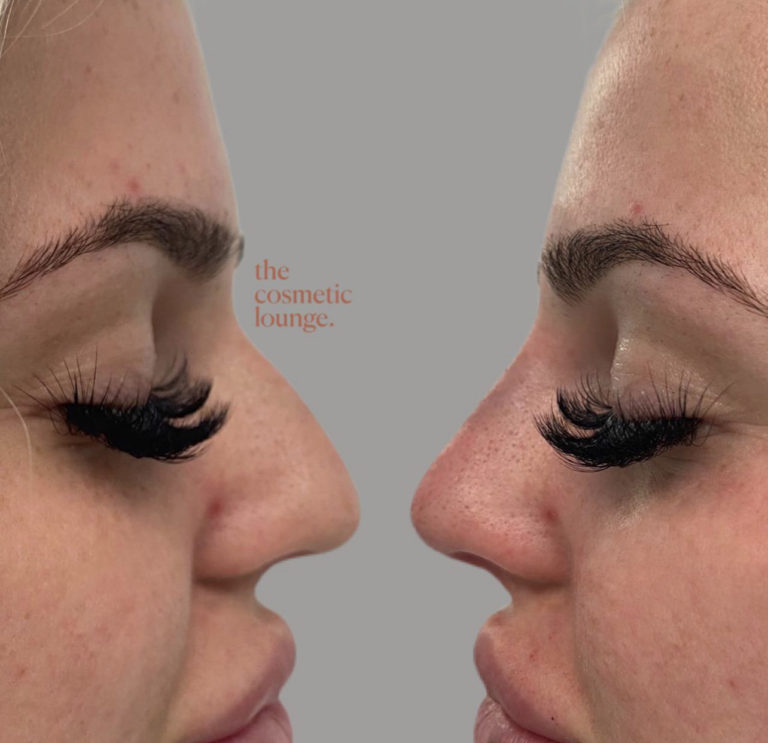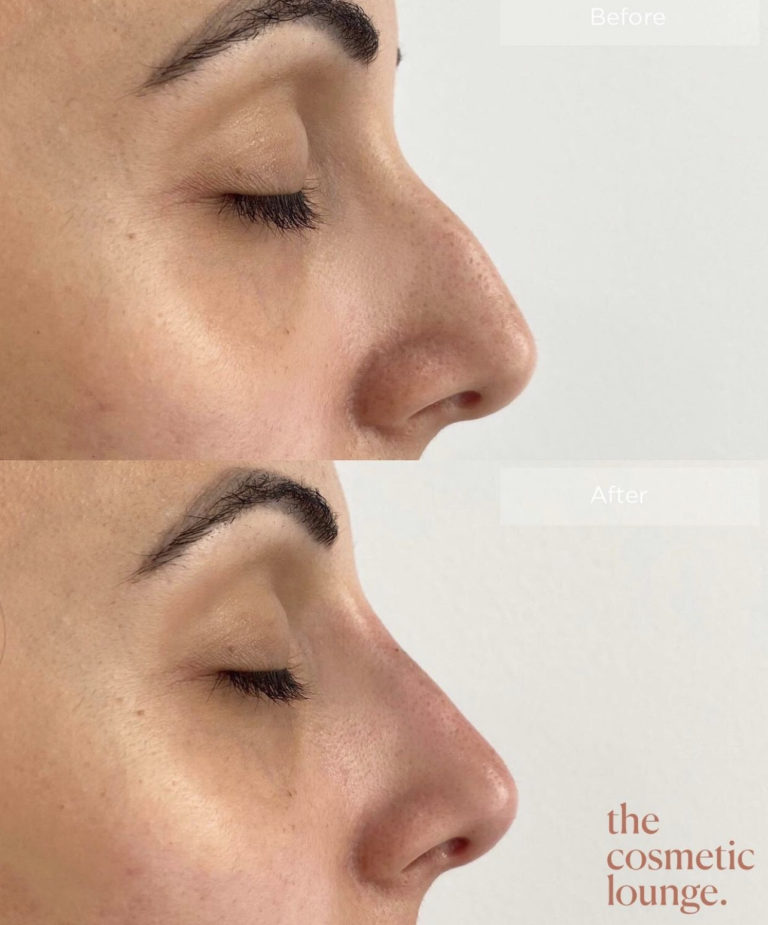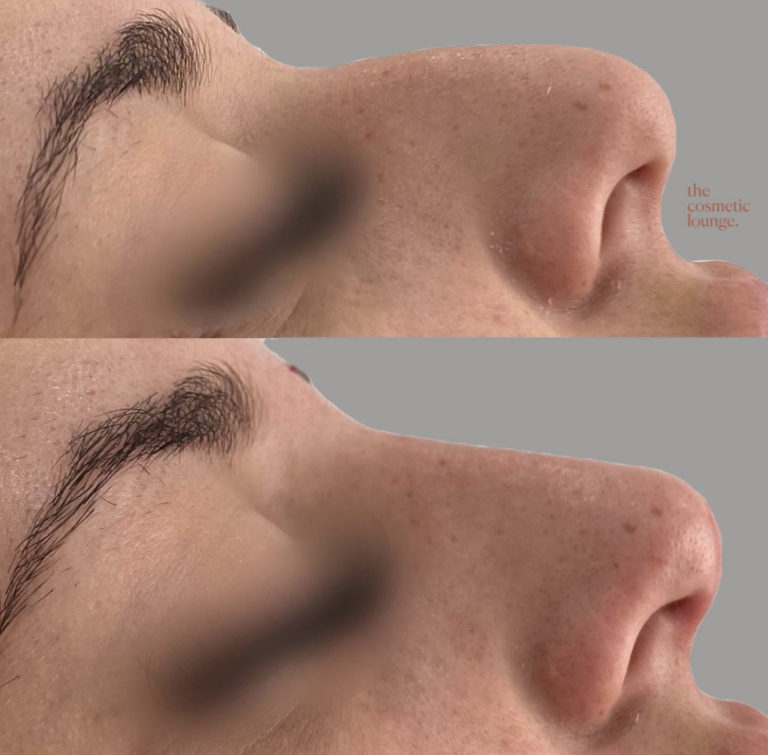 Pricing
Non Surgical Rhinoplasty
PLEASE NOTE: All prices are a starting point. It is best to consult with your Injector for accurate pricing.
Frequently asked questions
Can't find the answer you're looking for? Reach out to our customer support team.
The cosmetic treatment takes less than 30 minutes, and you can expect non-surgical rhinoplasty results to last anywhere from six to 18 months. Whether you're opting for a non-surgical rhinoplasty for a bulbous tip, a non-surgical rhinoplasty for a big nose or a non-surgical rhinoplasty for wide nose reconstruction, the length of desired results varies depending on the type and amount of dermal filler used.
While you may feel tenderness, swelling or bruising in the days following your treatment, there is no lengthy recovery or unbearable pain to endure after completion.
Non-surgical rhinoplasty is an excellent alternative to going under the knife, where you endure lengthy surgery and extensive aftercare procedures. When you book permanent non-surgical rhinoplasty at The Cosmetic Lounge, you're investing in a safe, cost-effective and relatively pain-free treatment that is performed by an expert team of registered nurses and experienced cosmetic injectors.